Farm Fresh Produce from O'Neil Creek Winery's Garden
Throughout the growing season we offer fresh produce to the public. If you would like you can come and harvest your own or we can take care of the harvesting for you.
Available Produce
Early Spring: Lettuce, Radishes, Snow Peas, Parsnips & Spinach
Mid Spring to Mid Summer: Beans (green & yellow waxes), Onions, Shallots, Beets, Cucumbers, Tomatoes, Peppers (regular & hot), Kohlrabi Cabbage, Celery.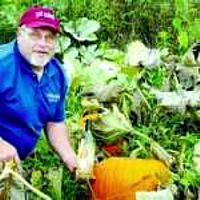 Mid Summer to Fall: Watermelons and Muskmelon (limited amounts), Potatoes, Rutabagas, Squash (assortment of varieties), Sweet Corn, Pumpkins.
Throughout the growing season: Rhubarb, Garlic, Zucchini and a variety of herbs are available.
Because Wisconsin weather is unpredictable we ask that you call ahead to make sure your desired produce is available.